Watch Obama go into his BET jive mode as he presents 'Love and Happiness' concert at the recent White House concert, saving the Obama's favorites for this last of eight yearly shows. No country, to pop, no classical, but what he considers REAL AMERICAN MUSIC … RAP and black music, featuring Usher and friends, who we've never heard of before. Sorry for our ignorance. So much for 'outstanding artists,'  in the words of Obama. Words…how about  'misogyny,' among others… though,  theses artists at least appear to have cleaned up the words a bit for this night.  Obama says he will really miss the 'Marine Bands,' whether serious or not …probably NOT, as he makes fun of older music, perferring to celebrate the 'new and innovative.'  He loved to talk about 'twerking' calling 'The Twist'  the 'twerking' of the Kennedy era when that was part of the then music concert while Kennedy was in office. He calls this year's show a 'mirror of who we are.'  (not sure who he was referring to as the 'we.'  )First song wasn't too bad but made us a little uncomfortable just watching Jill Scott, or whomever, trying to perform in her 'squozen into' outfit. 
FULL LYRICS HERE  T-SHIRT, POSTER, ETC – SALE TODAY  Does above make Michelle misogynistic much more than Trump for going along with these rappers' lyrics? (We believe Trump's choice of music is much tamer, like 'The Twist' with no twerking, of course.
T-shirts, Posters Available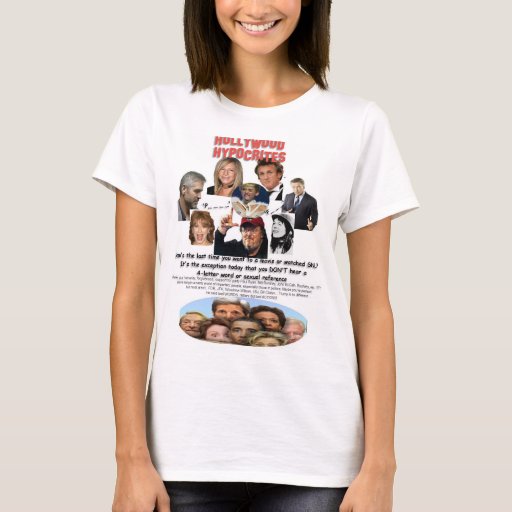 'I'VE BEGUN TO HATE ALL EVERYDAY AMERICANS' – Hillary Clinton, perhaps our next President
Nice to know we'll likely have a new President who will hate most of us . Today, we learned this ifrom another WIKI-LEAK, this coming through her campaign manager (Paul Podesta) email account.  First , she called half of Trump supporters 'deplorable' as in 'Basket of Deplorables' and now it appears she's not limiting her displeasure of MOST AMERICANS!  Nice. Wear the above on your sleeve (t-shirt) – also posters, mugs, etc.
Get Your HOLLYWOOD HYPOCRITES Tee Today –
NOW ON SALE – also Buttons, Magnets, Keychains and more
Hillary's BASKET OF DEPLORABLES T-shirt – OUT OF STOCK
Depolorables T-shirt Sale – They said Romney lost the election with his '47%' statement regarding those who would not be voting for him. If Romney did a bad thing, looks like Hillary has now come out with in her incredible 'HALF of Trump's followers' are a 'Basket of Deplorables…'  followed with a string of -phobias statement. We'll see what transpires as Trump is taking full advantage of the deplorable statement, even if the media, as usual, pretty much ignore Hillary's negatives. By the way, can you match these names to the people on the t-shirt?
Meanwhile, people are getting a real kick out of the whole visual of 'Hillary's Deplorables.'
ARE YOU A DEPLORABLE?  Congratulations, perhaps we should add